Come Sail Away with Us!  Join us for a chord-bustin', once-in-a-lifetime, memory-making journey as the Rich-Tones set sail for a 5-night excursion filled with surf, sun and musical adventure! Mark your calendar for February 19-24, 2021!  We'll depart from Galveston, Texas aboard Adventure of the Seas, en route to exotic destinations in the Western Caribbean … and our time at sea will offer musical opportunities a'plenty! Join us for coaching with SAI Master 700 Director Dale Syverson, and perform on stage with the Rich-Tones! Registration is open NOW!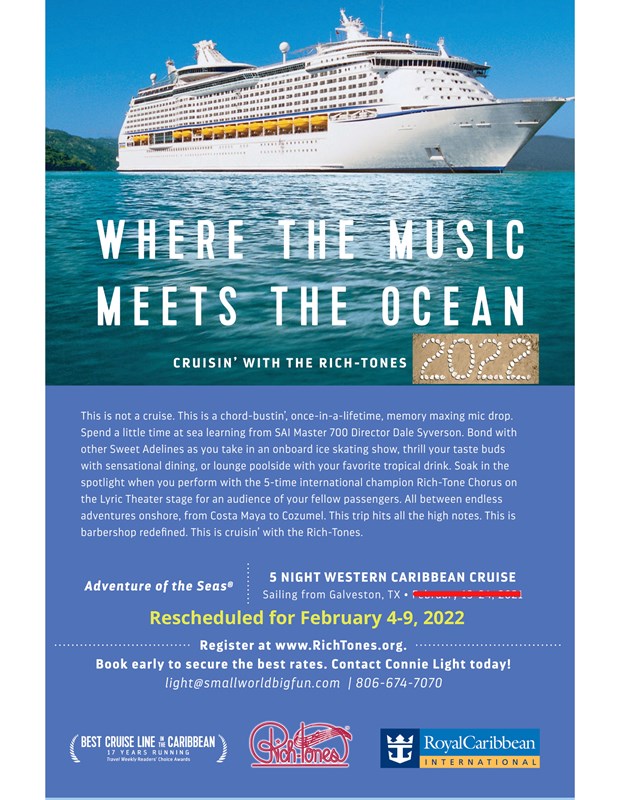 2 step registration process:
1. Fill out the online registration form here: https://form.jotform.com/LightSWBF/rt-cruise-registration-form-2022
2. Contact Connie Light at 806-674-7070 with your credit card information.
***Your registration will only be complete and booking confirmed when you have completed the registration form and provided valid credit card information for your deposit payment.  Prices subject to change and based on availability until deposit is paid.
Payment schedule:
$300/deposit due immediately to book in May 2021 or after
$100/person in May 2021 for those already booked
Final balance due starting Oct 23, 2021
Prices per person based on double occupancy (as of 02/20/20), subject to change and based on availability:
(includes cruise fare, taxes, fees, port expenses, and pre-paid gratuities)
Balcony - $639.00
Ocean View - $498.00
Interior - $389.00
Please contact Connie Light for pricing on triple/quad occupancy or other suites.
Group Travel Protection Insurance
$39/person in balcony and ocean view staterooms
                                                                                                                                                              $29/person in interior staterooms